Implant Denture Procedure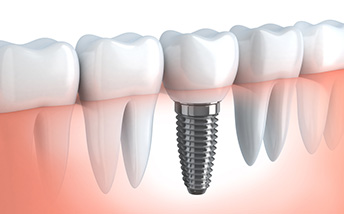 Implant dentures are used when an individual doesn't have any teeth in their jaw but has enough bone in the area to support implants. This appliance is an overdenture that attaches to implants. Unlike a regular denture that rests on the gums, implant dentures have fasteners that snap onto the implant's attachments.
Our denture services are available to anyone whether you are a first time denture wearer or simply need to have your denture plates repaired. Contact us today and we'll come to you.
What are implant dentures?
Implant dentures are overdentures that are attached to dental implants. Unlike a regular style of denture which is stable enough to rest on the gums, implant dentures are affixed to implants for stability. Like all dentures, implant dentures are removable and easy to care for.
What are the two types of implant dentures?
Bar-retained: These are constructed of a thin metal bar that follows the curve of your jaw. The bar is attached to 2-5 implants that have been fit into your jawbone. The denture fits over the bar which is clipped in place by clips or other attachments that are found on the bar itself.
Ball-retained: These are also known as stud-attachment dentures. Each implant that is placed in your jaw contains a metal attachment that fits securely into another attachment on the denture. The attachments are ball-shaped, hence how these implant dentures got their name.
How do implant dentures work?
Implant dentures work as follows: Implants are placed in your jawbone. Then the overdenture is attached to the implants in either the bar-retained or ball-retained style. Implant dentures are used on people who have lost all their natural teeth because the implants act as support system for the dentures (as your natural teeth would have).
Most patients will have their implant dentures created for the lower jaw because the area is less stable and implants are needed to help support the denture. The lower jaw isn't made up of many nerves that could hinder the implantation process. Nonetheless, you can have implant dentures made for your upper jaw depending on how much stability is lacking in that area.
No matter where your implant dentures are placed, it is a completely safe procedure with a short and easy healing process (5-8 months).
Caring for your implant dentures
As aforementioned, implant dentures are removable. As with any denture product, you should take them out at night. It's best to avoid sleeping with your implant dentures so that you can give your gums a chance to breathe. Additionally, implant dentures need to be cleaned regularly.
In-Home Dentures brings our denture services to your location. For more information about our mobile denture clinic or to inquire about implant dentures and if they're right for you, contact us today.
Back